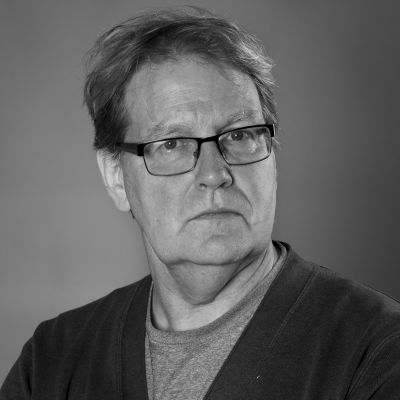 Dale Devereux Barker lives and works in Suffolk. A printmaker specialising in reduction linocuts and screen-prints, his work combines a celebration of colour and form with warmly engaging subject matter. The events of everyday life are transformed into colourful images loaded with humour and feeling. Objects about the home, mealtimes, figures in interiors or engaged in daily activity all take on a new life through his very personal imagery.
Dale has been a keen participant in Masters Swimming for many years and this is reflected in one of the thematic strands of his work.
Dale studied at Loughborough, Leicester, and at the Slade School of Art from 1980-1986. Since 1986 he has lectured widely in printmaking and continues to teach regularly at University College Suffolk. He was elected Fellow of the Royal Society of Painter-Printmakers in 1996.
Dale Devereux Barker has exhibited widely throughout Britain, in London, and abroad. In 1995 a retrospective exhibition of his work was held at the Fermoy Gallery, King's Lynn. He has works in many private and public collections including the Victoria & Albert Museum. He has completed many commissioned works, and has recently accepted a commission to produce 15 large vitreous enamel panels each 15ft high for Taylor-Woodrow Properties at St Katherine's Wharf, London.
Dale's web site