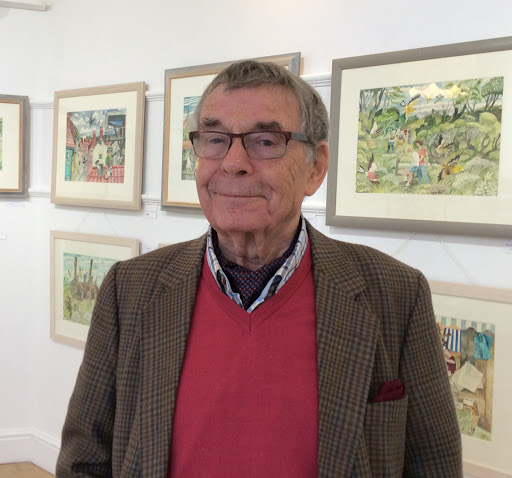 Michael Coulter has lived in Suffolk for over 50 years, and appreciates he is lucky enough to live and work in Woodbridge. As a professional artist, his search for ideas takes him all over East Anglia and beyond. His love of nature, the coast and countryside, towns and villages feature in his paintings. Michael's training in printmaking, illustration and wood engraving, can be recognised in his popular stylised watercolours.
Born in Ellesmere, Shropshire in 1937, he attended Hereford, Stafford and Leeds Colleges of Art. He was head of the Art department at Woolverstone Hall School, Suffolk from 1966–1987. Since then he has been painting full time. He works exclusively in watercolour, in his own light hearted style, influenced by the artists between the wars.
Over the years he has had over 25 one-man exhibitions, mostly in Suffolk and Dorset, but also London and Washington DC. The many Galleries that have shown his work include the Royal Academy Summer Exhibitions between 1983 and '86; the Peter Hedley Gallery, Wareham, The John Russell Gallery, Ipswich and more recently Hayletts Gallery, Maldon.
Some of Michael Coulter's designs are used for greeting cards. Every year Michael donates some of his designs to charities to be used as Christmas Cards. This year, The Suffolk Wild Life Trust and Suffolk Accident & Rescue Service will be raising funds this way.