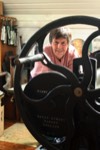 Glynn Thomas, born in Cambridge in 1946, studied at Cambridge School of Art 1962–67, specialising in illustration and printmaking. Went on to teach printmaking at Ipswich Art School for 10 years, since then he has been a full-time artist living in Suffolk. He is a Fellow of the Royal Society of Painter/Printmakers (RE). At one of the Society's Annual Exhibitions his etching 'Honfleur' was voted the best print. His work has been exhibited extensively throughout the UK and worldwide.
One-man shows have been held in Cambridge, Colchester, Manchester, Norwich and The Barbican London; mixed exhibitions include the Royal Academy, The Pall Mall Print Exhibition, and Rheged Great Print Exhibition. Works are held by the Ipswich Museum, the Ashmolean Museum, the Museum of London and the Houses of Parliament Art Collection. Work has been commissioned by Christie's Contemporary Art, and the etching 'Cambridge Lanterns' was presented to the Prime Minister of India.
Recently Glynn painted two animal sculptures for art trails in Ipswich and Cambridge, raising money for local charities
Publication: An illustrated autobiography, 'East Anglia: A Different Perspective'.